Q3 2018 Digital sales1 down by -19.8%: transition in the sales organisation as the company deploys its new digital offering
Q3 2018 revenues:
- Digital revenues1: €139 million, -3.4%
- Total revenues1: €160 million, -9.8%
Transformation on track:
- Swift execution of the redundancy plan with 800 people who left the company over the summer
- Confirmed 2018 guidance: stabilisation of recurring EBITDA1 (€170m) - Circa €60m2 of estimated savings in cost base for FY 2018 compared to FY 20173
- New products, partnerships, leadership, organisation, identity
Further transformation in 2019 while returning to growth:
- Digital sales to ramp up over 2019
- Back to growth for 2019 recurring EBITDA1, through Digital sales growth and additional cost cutting
- Further cost reductions and focus on cash to support the ability of the company to self-finance the Solocal 2020 plan
When releasing Q3 2018 results, Eric Boustouller, Chief Executive Officer of Solocal, said: "Since the announcement of our new strategic plan in February 2018, we have crossed significant milestones in an unprecedented transformation of Solocal: we completed a massive redundancy scheme in record time leading to 800 people leaving the company in July 2018, our cost base was cut by €60m2, we are now introducing our new subscription-based auto-renewal digital services offering and deploying a new omnichannel sales organisation... Despite the business impact caused by the rapid execution of the redundancy plan, we remain committed to delivering our guidance as regards stabilisation of recurring EBITDA1 (€170m) for 2018, after 9 consecutive years of decline. Building on the material 2018 achievements, we will be driving further transformations in 2019 to lay the foundations for the new Solocal over the long term. We will be focusing on: additional cost savings, full deployment of our digital offering and omnichannel salesforce including a new e-commerce channel, a new customer journey providing digital coaching to our customers, intensification of marketing automation and new advertising campaigns to generate new customers and upsell, modernisation of all our IT and R&D with platforms being moved to the cloud offering more cost savings and scale possibilities… Now all our efforts are going into executing this strategy. I am confident in our ability to grow in Digital sales over 2019 and bring recurring EBITDA1 back to growth, through sales growth and additional cost reductions."
The quarterly financial statements have not been audited. 2017 financial statements restated under IFRS 15 constitute unaudited financial information. Year-to-Date financial information is for the period from January 1st to September 30th.
Revenues, sales and order backlog
The revenues1, sales1 and order backlog1 of Solocal in Q3 2018 and since the beginning of the year are as follows: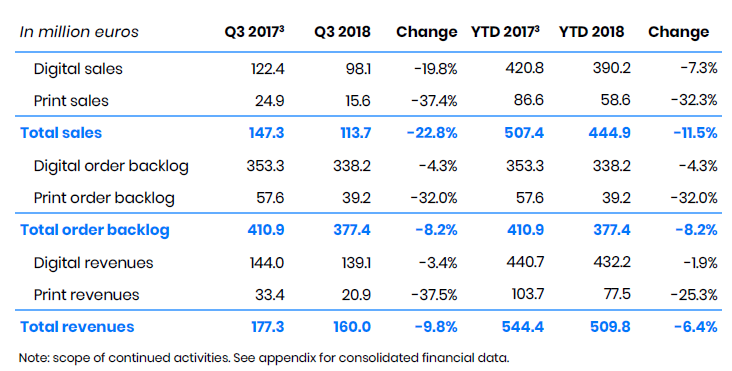 Total sales1 amounted to €114 million in Q3 2018 down -23% compared to Q3 2017. Digital sales1 declined by €24 million, or -20%, while Print sales1 are down €9 million, or -37% in Q3 2018 compared to Q3 2017.
This change is mainly due to the impact of the reorganisation. As anticipated, the implementation of the redundancy plan created significant disruptions with 800 people leaving the company over the summer, of which 400 within the salesforce. The deep transformation of the sales organisation has significantly impacted our business activity in the short term. This transition period is being vigorously addressed by the management.
As regards Print sales, customers and users are continuing to move away from traditional print products.
Year-to-Date 2018 total sales1 amounted to €445 million down -12% compared to YTD 2017 total sales1. YTD Digital sales1 declined by €31 million, or -7%, while the YTD Print sales1 are down €28 million, or -32%.
The order backlog1 was €337 million as of September 30th, 2018, down -8%. This decrease is partly due to the strong decline in the Print business (-32% drop as of September 30th, 2018 vs September 30th, 2017). The Digital order backlog is down -4% due to a decrease in Digital sales in Q3 2018.
The company recorded total revenues1 of €160 million in Q3 2018, down -10% over Q3 2017.
Digital revenues1 of €139 million in Q3 2018 were down -3% compared to Q3 2017 due to the decline in Digital sales despite the success of performance products such as Booster Contact which recorded double-digit growth in revenues1 in Q3 2018 and growth in the website business. The Digital business accounted for 87% of total revenues1 this quarter.
Print revenues1 of €21 million in Q3 2018 fell -37% compared to Q3 2017, as customers and users continued to migrate to digital media. The Print business accounted for 13% of total revenues1 this quarter. Solocal continues to monitor the profitability of its print business and has ceased publication of PagesJaunes paper directories in non-profitable geographic areas that have a high digital coverage. The company decided to stop publication in 15 more French departments to take effect in 2020 after deciding earlier this year to stop publication in 11 others in 2019.
85% and 15% respectively of Q3 2018 revenues1 came from the Q3 2018 backlog1 and Q3 2018 sales1 whereas 86% and 14% respectively of Q3 2017 revenues1 came from the Q3 2017 backlog1 and Q3 2017 sales1.
Year-to-date 2018 total revenues1 amounted to €510 million, down -6% compared to YTD 2017 total revenues1. YTD 2018 Digital revenues1 fell €8 million, or -2%, while YTD 2018 Print revenues1 were down €26 million, or -25%.
The operational KPIs of Solocal in Q3 2018 and since the beginning of the year are as follows:

Auto-renewal subscription sales (evergreen) as a percentage of total sales4 were 15% and increased by +5 points in Q3 2018 compared to Q3 2017. Q3 2018 auto-renewal subscription sales mainly include Websites, the Booster Contact and Social offers. The new subscription-based auto-renewal product offering will be deployed starting in November 2018 (Presence) with an acceleration in 2019.
Audience1 fell -1.3% in Q3 2018 compared to Q3 2017 driven by the slowdown in Mappy and Ooreka traffic. Mobile visits grew by +10.8% in Q3 2018 compared to Q3 2017 across all websites, reaching a new record in mobile use and consistent with the global trend. PagesJaunes traffic was stable in Q3 2018 compared to Q3 2017. Visits driven by partnerships have gone up, with those originating from the Apple partnership up by +89% in Q3 2018 compared to Q3 2017. Apple is becoming one of Solocal's main partners in terms of audience and leads.
Audience1 fell -1.1% in YTD 2018 compared to YTD 2017. Mobile visits grew by +8.4% in YTD 2018 compared to YTD 2017. PagesJaunes audience increased by +0.5% in YTD 2018 compared to YTD 2017. Leads generated by visitors were up +1.4% in YTD 2018 compared to YTD 2017.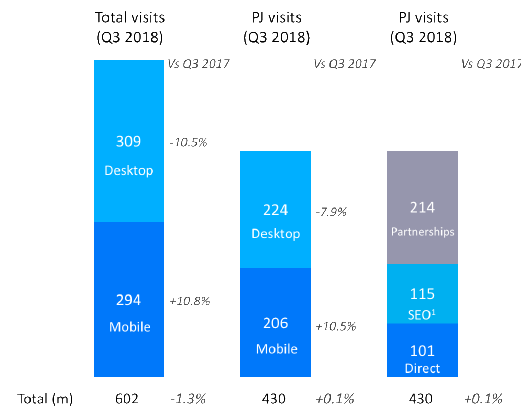 Back to growth: building sales and marketing muscles to get ready
Solocal is deploying its new sales organisation to unlock the full omnichannel potential:
• A new salesforce leadership structure is now in place
• The new e-commerce channel will be up and running in January 2019
• There is a special focus on large accounts with targeted products and an adapted organisation
• Customer allocation is now determined based on a new market segmentation (potential ARPA < €500, €500-3,000, €3,000-5,000, €5,000-25,000, > €25,000) in order to assign customers to the most appropriate sales channel
• Strong customer support with digital coaching
• New compensation rules for the salesforce will be effective in January 2019
• A performance culture is being instilled at every level of the organisation
Sales reps and customer support will be given more efficient tools and technologies to drive sales growth over 2019 including:
• New product training
• Data driven customer journey to secure customer migration, customer satisfaction, reduce churn and encourage upsell
• Optimised CRM tool: simplified and systematic for sales and customer support
• Marketing automation (fully integrated into the CRM tool) to generate leads, new customers and upsell
• State-of-the-art equipment: new sales interface, mobile app, internal ROI portals, new devices
• Screen sharing plug-in
New Solocal identity and website
Solocal's new identity and website will be revealed early November. The e-commerce feature will be integrated into the Solocal website in January 2019. The new identity embodies the company's new digital positioning and personality: customer-oriented, forthright, unashamed. Communication and advertising campaigns will be carried out in 2019, starting in Q1 2019. Sales and marketing automation campaigns have started to be rolled out and will be intensified to drive upsell and generate new customers. Communication and marketing expenditure will increase in 2019 with a budget exceeding €10 million.
2019: a year of transformation and transition
2019 will be another year of deep transformation as well as a year of transition with the migration of our customer base to our new digital offering.
The key milestones to be achieved in 2019 for Solocal are the following:
• Full deployment of our new subscription-based auto-renewal product offering, customer acquisition and migration of the existing customer base
• Full deployment of our omnichannel sales force with a new variable compensation system and new tools
• Breakthroughs in e-commerce and large accounts
• Scaling advertising campaigns, marketing automation and the new customer journey
• PagesJaunes user experience, verticals and marketplace and Mappy user experience and MaaS
• Full cloud, ERP/CRM implementation, all processes and systems modernised
Outlook for 2018
The company confirms its outlook regarding the stabilisation of recurring EBITDA1 (170m€) for 2018.
About Solocal
Solocal is positioned as the trusted and local digital partner supporting business companies to accelerate their growth. To succeed in this transformation, it relies on its six key assets some of them being unique in France: media with very high audiences, powerful geolocated data, scalable technological platforms, commercial coverage throughout France, privileged partnerships with GAFAM and numerous talents (experts in data, IT development, digital marketing, etc.). Solocal's activities are structured around two axes. First, a range of "full web & apps" digital services on all devices (PCs, mobiles, tablets and personal assistants), offered in the form of packs and subscriptions, ("Digital Presence", "Digital Advertising", "Digital Website"," Digital Solutions" and "Print to Digital"), and integrating a digital coaching service, to support clients success. Second, flagship owned media (PagesJaunes and Mappy) used daily by the French and offering an enriching and differentiating user experience. With more than 460,000 customers across France and 2.4 billion visits on its media, the company generated revenues of €730 million (restated under IFRS15, continued activities) in 2017, 82% coming from Internet making it one of the leading European players in terms of online advertising revenue. Solocal is listed on Euronext Paris (LOCAL). More information is available at www.solocalgroup.com.

Appendix
Consolidated revenues