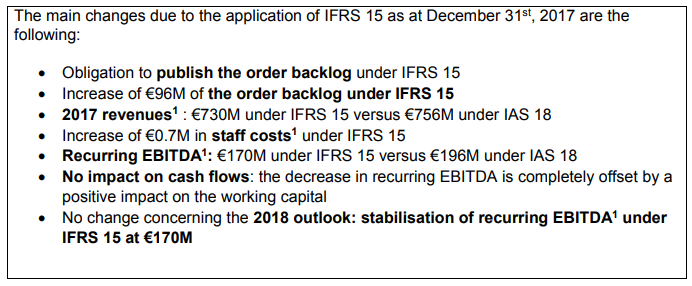 I. Order Backlog
IFRS 15 requires to publish the order backlog. SoLocal Group's order backlog as at December 31st , 2017 under IFRS is the following:

The shift to IFRS 15 leads to a modification of the backlog order as at December 31st , 2017, leading to an increase of €96M. Digital revenue recognition is more spread over time. As such, some revenues recognised under IAS 18 in 2017 will also be recognised under IFRS 15 in 2017 and partly spread over 2018 and 2019.
II. Income statement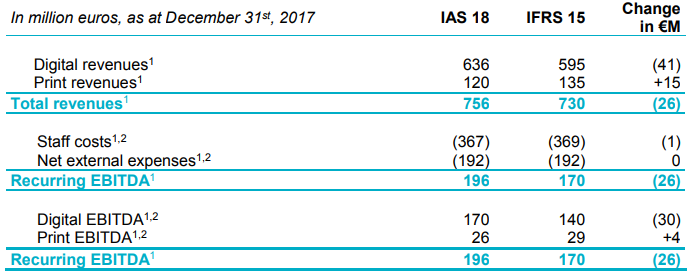 The impact of this change for the Group is a revenue recognition that is more spread over time. Thus, the Group's 2017 revenues 1 restated under IFRS 15 are lower by €26M compared to IAS 18. Most of this impact will be recognised in the 2018 revenues and the remaining part in the 2019 revenues. As a consequence, there is no revenue loss but a deferred revenue recognition for the Group.
The Group has revisited its financial principles regarding digital vs. print sales breakdown as part of the application of IFRS 15.
The impact on costs is limited, representing a global change in 2017 total charges1 of €0.7M under IFRS 15 versus IAS 18.
The 2017 recurring EBITDA1 restated under IFRS 15 amounts to €170M, representing a change of -€26M compared to the IAS 18 recurring EBITDA1 . The 2017 digital recurring EBITDA1 restated under IFRS 15 amounts to €140M, and the 2017 print recurring EBITDA1 restated under IFRS 15 amounts to €29M.
III. Cash Flow statement
The shift to IFRS 15 has no impact on cash flows. The change in recurring EBITDA is offset by the change in working capital.
IV. 2018 outlook
The outlook in terms of recurring EBITDA for 2018 is the stabilisation of recurring EBITDA1 at €170M, in line with the implementation of this new accounting standard.
A detailed presentation illustrating the main impacts of IFRS 15 is available on the corporate website of the Company http://www.solocalgroup.com/en/finance/presentations-et-webcasts
Furthermore, a detailed description of applied accounting principles will be released at the time of 1H 2018 financial statements.
Due to rounding, numbers presented throughout this and other documents may not add up precisely to the totals provided.
About SoLocal Group SoLocal Group is positioned as the trusted and local digital partner supporting business companies to accelerate their growth. To succeed in this transformation, it relies on its six key assets some of them being unique in France: media with very high audiences, powerful geolocated data, scalable technological platforms, commercial coverage throughout France, privileged partnerships with GAFAM and numerous talents (experts in data, IT development, digital marketing, etc.). SoLocal Group's activities are structured around two axes. First, a range of "full web & apps" digital services on all devices (PCs, mobiles, tablets and personal assistants), offered in the form of packs and subscriptions, ("Digital Presence", "Digital Advertising", "Digital Website"," Digital Solutions" and "Print to Digital"), and integrating a digital coaching service, to support clients success. Second, flagship owned media (PagesJaunes and Mappy) used daily by Frenchs and offering an enriching and differentiating user experience. With more than 460,000 customers across France and 2.4 billion visits on its media, the Group generated revenues of €756 million in 2017 (IAS 18), 84% coming from Internet making it one of the leading European players in terms of online advertising revenue. SoLocal Group is listed on Euronext Paris (LOCAL). More information is available at www.solocalgroup.com.
Contacts Press
Delphine Penalva
+33 (0)1 46 23 35 31
[email protected]
Edwige Druon
+33 (0)1 46 23 37 56
[email protected]
Alexandra Kunysz
+33 (0)1 46 23 47 45
[email protected]
Investors
Nathalie Etzenbach-Huguenin
+33 (0)1 46 23 48 63
[email protected]
Sébastien Nony
+33 (0) 1 46 23 49 03
[email protected]
Alima Lelarge Levy
+33 (0) 1 46 23 37 72
[email protected]
Appendix
Income statement as at December 31st, 2017 – IFRS 15 (unaudited)